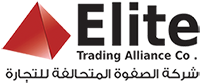 Elite Trading Alliance
Anticipating the ever-growing need of the Kingdom of Saudi Arabia for quality product and service providers in the construction sector, the El Seif Group established Elite Trading Alliance (ETA) in 2014.
With highly qualified management and strong resources, the company has quickly expanded its operations across the Kingdom, servicing clients efficiently with quality products in challenging locations. This can-do attitude and delivery has made ETA the first choice for the Kingdom's top manufacturers and contractors.
Today the company is one of the largest Steel and Cement suppliers in the Kingdom, and a key player in the wood, door hardware, and protective preventative equipment markets.
ETS has offices and warehouses covering Riyadh, Khobar, Jeddah, Al Ahsa, Jazan, Najran, Hail, and Tabouk to ensure the highest level of service.
El Seif Group
El Seif Group Complex, Khaled Bin Al Waleed St., Al Hamra Area,
PO Box 2774 Riyadh 11461, Kingdom of Saudi Arabia